MaMaws Kitchen Sink Cookies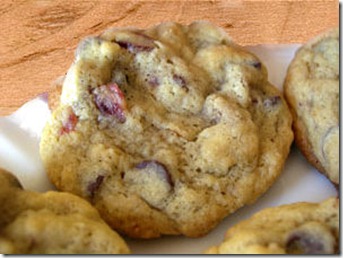 Ingredients
2 cups all-purpose flour
1 cup old-fashioned rolled oats (NOT quick-cooking or instant)
2 teaspoons baking soda
1/2 teaspoon salt
1 cup (2 sticks) butter, softened
1 cup creamy peanut butter
3/4 cup granulated sugar
3/4 cup packed brown sugar
2 large eggs
2 teaspoons vanilla
1 cup dark chocolate chips
1 cup walnuts, almonds or pecans
1 cup dried cranberries
1 cup white chocolate chips
1 cup peanut butter chips
In a medium bowl, whisk together flour, oats, baking soda, and salt; set aside.
Cream together butter, peanut butter, granulated sugar, and brown sugar.
Add eggs one at a time, mixing well after each addition. Stir in vanilla.
Gradually add in flour mixture. Add all the chips.
Now, take a spoonful and eat it…(unless your afraid of raw eggs)
Roll dough into 1 to 1-1/2 inch balls. Place balls 2 inches apart on ungreased or parchment paper lined baking sheets.  Eat one for quality assurance.
Bake 9-10 minutes at 350 degrees or until lightly browned.  Cool cookies for a 2 minutes on the baking sheets, then remove cookies to wire rack (eat one for Q.A. purposes) and cool completely. Store covered in an airtight container.
Enjoy!
2,294 total views, 0 views today

You may like these recipes too: