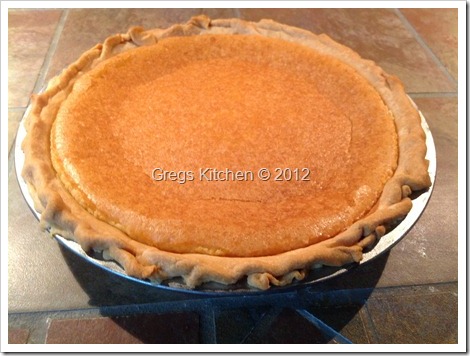 Most Northerners have never heard of chess pie, one of the best desserts on Earth.  Believe me, growing up in Ohio, I hadn't heard of it either. That all changed when I went to my Great Aunt Lizzy's with my Grandma once. 
Not only did she make the best ginger bread cookies, but then this wonderful thing came out of her kitchen.  It's sort of like pecan pie without pecans, but that doesn't even start to do it justice, since it's neither heavy nor sticky. Instead, it's light and delicious, the perfect accompaniment to an after-dinner coffee. Her chess pies were almost transparently golden. 
These pies are overflowing with  vanilla flavor and served warm—and plain. (No ice cream or even whipped cream, God forbid. And no lemon!!! Some people seem to feel a holy obligation to destroy every vanilla-flavored dessert from chess pie to pound cake and cheesecake by dumping in lemon instead of the traditional vanilla. Get a grip!!! If you simply can't control yourself, at least say that there's lemon in there before the unsuspecting chess pie lover  plunges a fork in.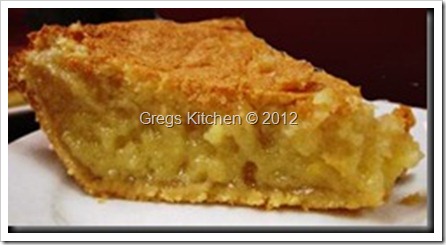 I'm not even going to type the recipe, you can get it directly from her recipe card….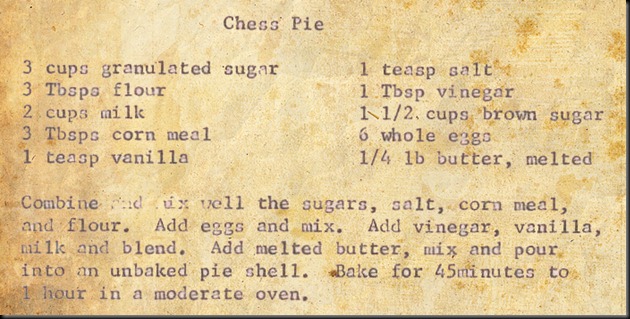 6,188 total views, 0 views today

You may like these recipes too: