Canned Pickled Corn (Corn Salsa)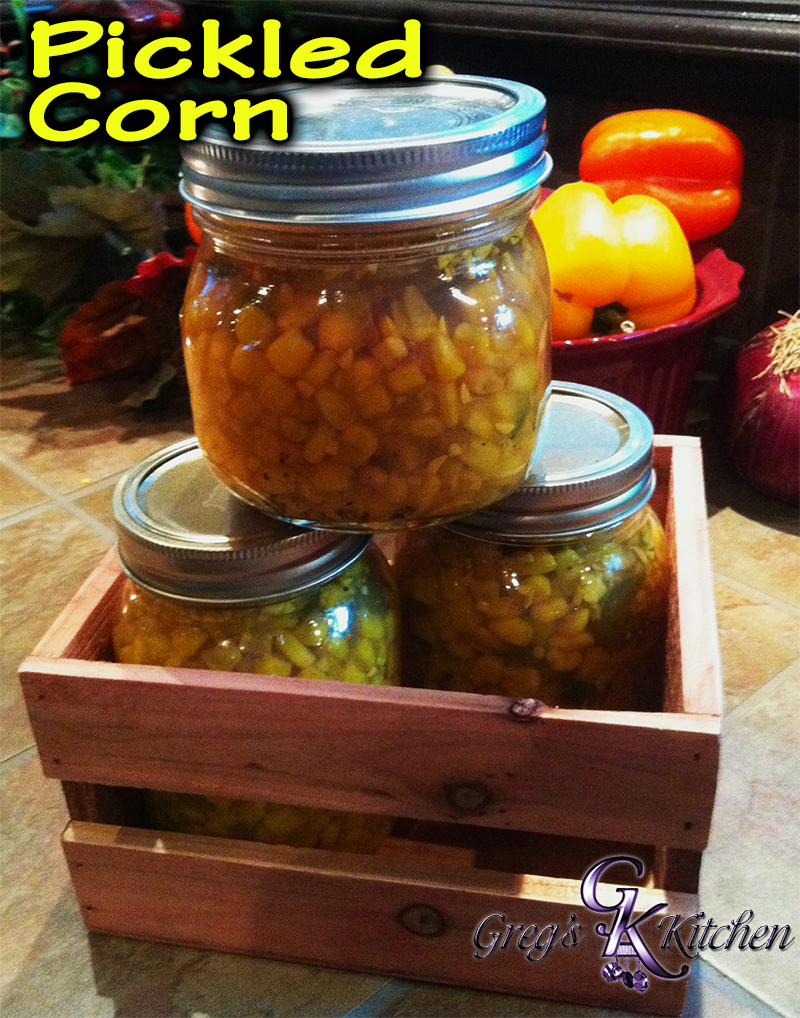 It's that time of year.  Time to "put up" all that wonderful produce you grew or find at local farmers markets.  Today I put up some pickled corn.  It is great to have to add to salsa's or just put over fish or chicken.  I hope y'all get out and get fresh produce and put it up for those cold fall and winter months.
Ingredients:
20 fresh ears of sweet corn
3 cups celery – chopped
1 1/2 cups  red sweet pepper- chopped
1 1/2 cups  green sweet pepper- chopped
1 cup onion- chopped
2 1/2 cups vinegar
1 3/4 cups sugar
4 teaspoons dry mustard
2 teaspoons pickling salt
2 teaspoons celery seeds
1 teaspoons  ground turmeric
3 tablespoons cornstarch
Instructions:
Husk the corn and remove any silks.
Cut corn from cobs. You should get 8-10 cups corn.
Place the corn in a large pot.  Add vinegar, celery, peppers, and onions. Simmer over medium heat about 10 minutes until corn and veggies are tender.
Stir in the sugar, mustard, pickling salt, celery seeds and turmeric. Mix well.  It should be somewhat liquidy.  If not, add a bit of water.
Bring to a boil and then boil gently for a full five minutes, stirring occasionally.
Stir together cornstarch with 3 Tbs. water until smooth. Add to corn mixture. Continue to cook and stir until slightly thickened and bubble, cook and stir two more minutes and then remove from heat.
Ladle hot relish into prepared jars, leaving 1/2″ headspace in each jar.
Wipe jar rims with clean paper towel and top with lids and bands that have also been boiled.
Process in a boiling water bath for 15 minutes.  You time this from when the water begins to boil rapidly.
Remove from water bath to cooling rack or towel and allow to cool at room temperature.  You should here the lids popping as they seal.
Any lids that do not seal, either use or place in refrigerator for later use.
Store in cool dark cabinet.
5,254 total views, 1 views today

You may like these recipes too: