Mango Mustard Grilled Chicken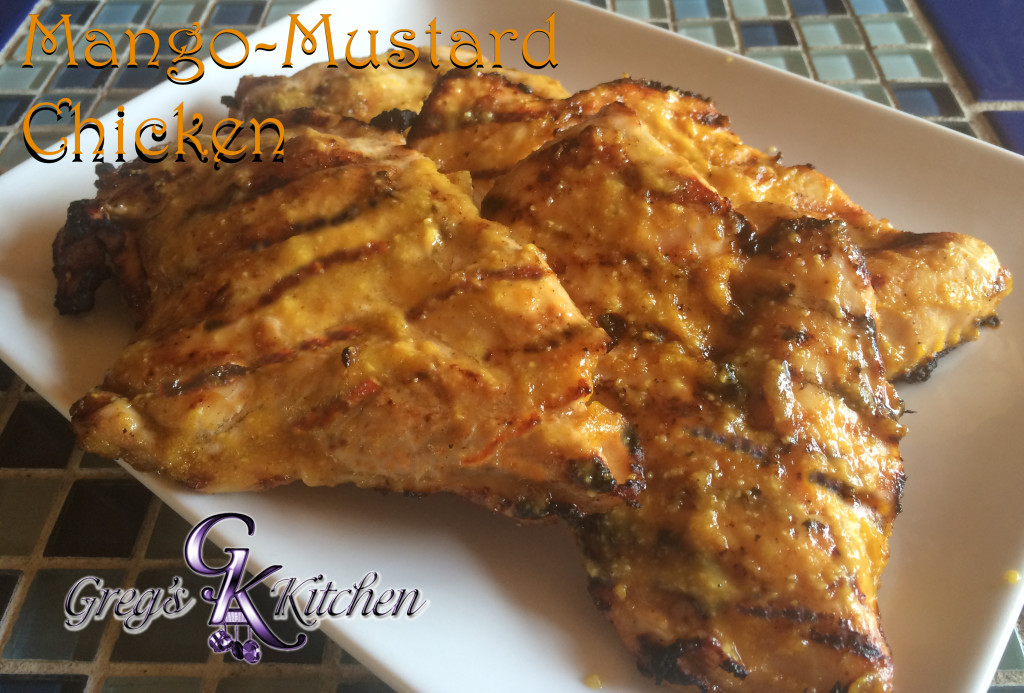 With spring in full on forward drive here in south Florida, my mango trees are overflowing.  I have been keeping up of course with Mango Daiquiri's.  I have even frozen bags full of mango's for future use (probably daiquiri's).  But tonight I decided to incorporate them into dinner.  So I put together a grilled chicken with a mango mustard glaze.  I have to admit.  It turned out very tasty.  Maybe some of those frozen mango's won't make it into my frozen drinks.  They will be put to use in some savory dishes as well.
Ingredients:
4 chicken breasts
2 fresh mango's
1/3 cup Dijon mustard
3 tablespoons apple cider vinegar
1/4 cup brown sugar
1/2 teaspoon ground ginger
2 tablespoons molasses
Put mango's in a small food processor and pulse into paste. Add all remaining ingredients and mix until well incorporated.
Put chicken in zip top bag and add half of the mango mixture. Mix chicken around in bag to coat all pieces then put in refrigerator for 1/2 hour at least (up to overnight).
Grill chicken as you normal would (or saute in pan). After turning chicken to cook both sides adequately baste each side with remaining mango mixture and grill both sides again to caramelize.
Make sure chicken comes to 165°F internally. I like to cook mine to about 160 and then take off grill and rest. It should continue to cook covered to 165°.
29,755 total views, 0 views today

You may like these recipes too: