Baked Spicy Parmesan Zucchini Fries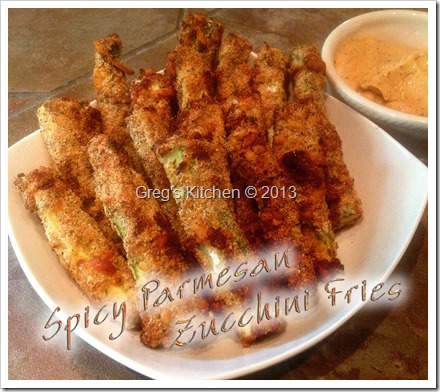 Ingredients
For the Fries:

1/4 cup all-purpose flour
1 tsp. salt
1/2 tsp. cayenne
1 tbsp. dried basil
4 tbsp parmesan cheese, grated
1 cup  breadcrumbs
3 large eggs whites
1 tbsp. milk
2 medium zucchini

For the Sauce:

1/2 cup mayonnaise
1 teaspoon cayenne pepper
1 teaspoon chili powder
1 teaspoon hot sauce
1 tbsp. lemon juice
Directions
Slice the zucchini in half (lengthwise) and then each half into 2 pieces (widthwise). Now, slice each zucchini piece into 4 slices lengthwise. (possibly more if you have larger zucchini's)
In a shallow dish combine the flour, salt, cayenne  and basil and mix well.  In another shallow dish place the breadcrumbs.  In a third bowl whisk briskly the egg whites and milk  until frothy.
Dredge the zucchini pieces in the flour mixture and then dip into egg whites followed by the bread crumbs.  Place coated zucchini fries on cooling rack (sprayed with cooking spray) set on a cookie sheet (this will allow the fries to crisp on all sides) and repeat with the remaining pieces until done.
Bake for 12 minutes until golden brown in a preheated 425 degree oven.
For the dipping sauce: In a large bowl combine all ingredients and stir to mix completely.
5,115 total views, 0 views today

You may like these recipes too: