Crustless Breakfast Quiche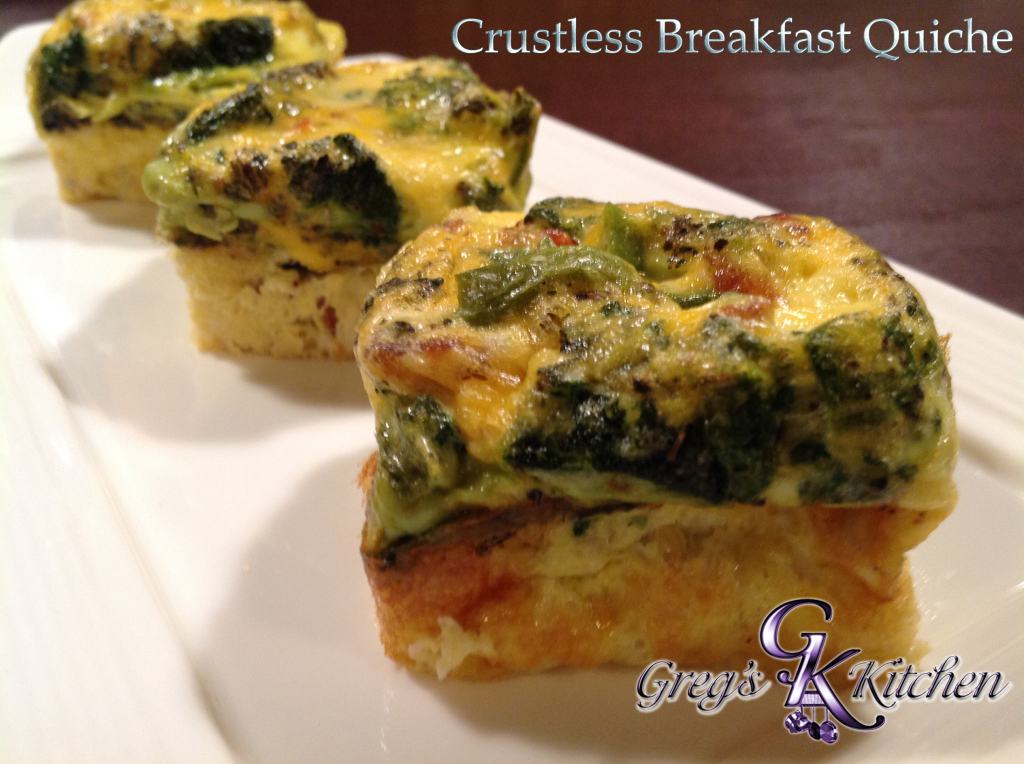 With my mom visiting, it has become a bit of a task to find new things to make for her.  I am so used to her doing the cooking when we are together because I just love her recipes.  they are what I grew up with.  They are what shaped me and gave me the base of my cooking style.
But this morning I got up a bit early and put together some crustless quiche's.  You'd never know by the taste that they were so simple to make.  In fact they are basically whatever you have in your refrigerator or what you might find fresh at the farmers market.  Having some beautiful swiss chard and green peppers it was simple enough to put these together with some bacon (of course I added bacon) and cheese to make these beauties.  I chose to use my square muffin pan, but you can use a regular muffin/cupcake pan as well.
They would also freeze well for a quick heat and run breakfast during your busy work week.
Give them a try and let me know what you think.  I am sure you'll be making these soon.
Ingredients:
8 eggs
1/2 cup milk
1 cup swiss chard (chopped)
1 green pepper (diced)
8 slices bacon (cooked and chopped)
1 cup cheddar cheese
1 teaspoon garlic powder
salt and pepper to taste
Preheat oven to 350 F
In medium bowl mix the eggs and milk to combine will.  Add garlic powder and salt/pepper and mix.
Spray your muffin tins well.  Divide the mixture among 7-9 muffin tins.  Bring to about 1/2 inch from the top.
Divide and add each additional ingredient (swiss chard, pepper, bacon and cheese) to each filled muffin tin.  Using a fork, mix the added items a bit.
Bake for 20 minutes (turning half way through) or until baked and just a bit golden brown on top.
Let cool for 5 minutes before removing from tins.
1,897 total views, 0 views today

You may like these recipes too: