Lemon Pepper Rotisserie Chicken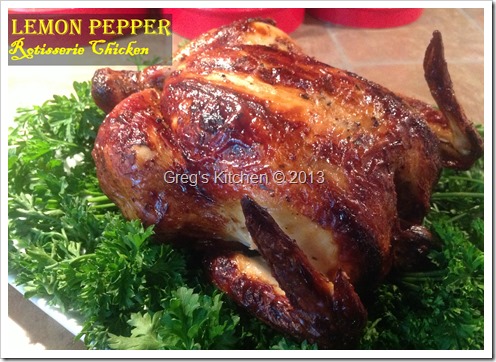 I remembered I had an old rotisserie/roaster that my mom had given me in the back of the pantry yesterday.  So I pulled a chicken out of the freezer and let it thaw out over night in the refrigerator.  When I got home from work today I pulled together a very simple recipe that will make your family feel like you worked for hours on it.  The chicken was so moist and almost falling off the bone.  The lemon that I placed inside the chicken with the garlic and thyme perfumed the whole bird, and my kitchen.  I put a bit extra pepper on my chicken than some of you might like, but I am a big fan of fresh ground pepper.
So the next time you have a lot on your plate and have to make a quick dinner, give this one a try.  You can also do it in the oven if you don't have a rotisserie.  I've done it that way before and it comes out just as tasty.  Either way, give it a try and let me know what y'all think.
Ingredients:
1  1/2   pound chicken
salt and freshly ground black pepper
1/2 teaspoon garlic powder
1   large lemon, halved
1   garlic head, cut through horizontally
4 – 5   fresh bay leaves
6-8 fresh thyme sprigs
3-4 teaspoons Eureka Lemon Olive Oil (I only buy & use Joe & Sons Olive Oils ).   You can also use 3 teaspoons olive oil and 1 teaspoon lemon juice if you can't find lemon infused olive oil, or just click the link up there for Joe & Sons and order the best.  You won't be disappointed.
Rinse and clean chicken.  Pat dry with paper towel.
Sprinkle the inside cavity with some salt and pepper to taste, then stuff the lemon, garlic, bay leaves and thyme into the cavity.
Tie the legs together with kitchen twine.
Mix the olive oil and lemon juice and rub down the outside of chicken with olive oil and season with salt and pepper and the garlic powder.
Place on rotisserie and secure (you could also roast in oven at 350°F)
Roast in the rotisserie for about 45 minutes.  Should be golden brown with juices running clear.  Make sure to cook to at least 165° internal temperature at thickest part of meat away from bone in thigh.
Remove from rotisserie, tent with foil and let rest for at least 15-20 minutes.
4,270 total views, 0 views today

You may like these recipes too: