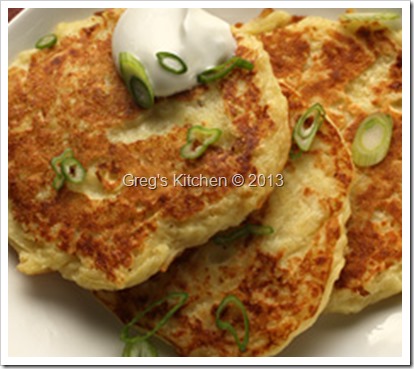 Ingredients:
6 to 7 medium potatoes
2 tablespoons, white vinegar
1 medium sweet onion
1 large egg, beaten
1 tablespoon heavy cream
2 tablespoons all purpose flour
1 teaspoon baking soda
1/4 teaspoon garlic powder
1 teaspoon salt
1/2 teaspoon ground black pepper
1/4 teaspoon paprika
4 teaspoons butter
Recipe Instructions:
Peel potatoes and grate using a food processor. Pour potatoes into a large pot, add vinegar, mix and cover with ice cold water. Allow the potatoes to soak for about an hour. Drain potatoes and using paper towels or kitchen towel remove as much moisture from the potatoes as possible.  We want these as dry as possible so our pancakes are firm and stick together.
Grate your onions using a food processor. In a medium bowl, mix together the  potatoes, onions, egg, cream, flour, baking soda, garlic powder, salt, pepper and paprika.
Heat butter in a large cast-iron skillet over medium heat.  Spoon about 2 tablespoons of the potato mixture  into frying pan and then flatten with  spatula.
Cook potato cakes just like you would a pancake by browning on both sides, about 3 to 5 minutes on each side.
Top with your favorite topping or just serve plain.  I like sour cream or even something like applesauce.
10,736 total views, 0 views today

You may like these recipes too: