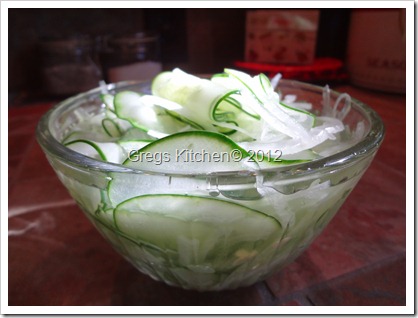 Growing up with an almost 1/2 acre garden.  We always had fresh veggies of all kinds.  I can remember mom sending us out to pick beans or tomatoes and giving my sister and I each a five gallon bucket and we didn't stop till we were done.   Believe it or not, my sister, not me, liked to fill the bucket half full of grass and weeds and then pile beans on top.  That got her out of the garden and to her friends house quicker.  Of course when mom started snapping beans, well lets just say my sister would be back in the garden again picking.
During the hot summer months I used to love it when my mom made her cucumber salad.  We usually had a bowl of it sitting in the refrigerator at all times.  Mom would just keep adding cucumbers and onions to it.  I loved to just get a small bowl of it and eat it as a snack on hot days or evenings.  There is something about these simple recipes that our moms and grandma's made that are so easy to pull up memories for us.
So today, it is 74 degrees in Tampa on January 8th.  Beautiful day, and I went to the local "Market" here up in Seminole Heights.  I got all kinds of fresh goodies, along with cucumbers and onions to make moms salad.  Well as you can see from the picture above, it turned out great.  Now, after I let it sit for about 4 or more hours, I'll have a real treat.  I hope you all like this recipe that I am sure your momma's made as well.
Ingredients:
3 large cumbers
1 large onion
1 cup vinegar
1 cup water
1/4 cup sugar
3 tablespoons salt
Using a mandolin, cut your cucumbers and onion paper thin. In colander set over large bowl, toss cucumbers and salt; let stand 30 minutes at room temperature. Discard liquid in bowl. Pat cucumbers dry with paper towels.   In same clean bowl, combine vinegar, water and sugar.  Add cucumbers and onions and toss to coat. Cover and refrigerate, stirring occasionally, at least 1 hour to blend flavors or up to 4 hours.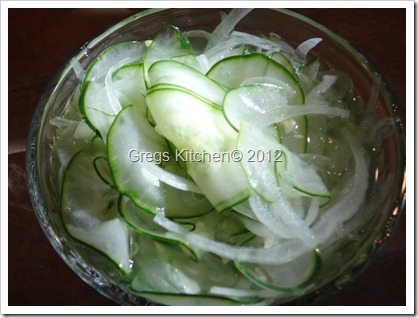 12,156 total views, 0 views today

You may like these recipes too: