Chocolate Chip Cappuccino Muffins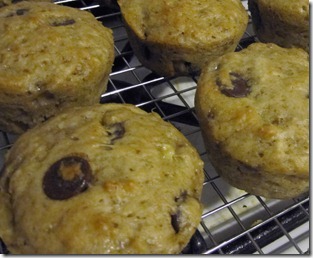 Anybody who knows anything about me, knows that if they did a blood test on me, they would find that it is about 50% Starbucks Coffee.  I love Starbucks and have my best friend Allen to blame for it.   He showed up one time years ago with an iced coffee from Starbucks and of course I snatched it away to get a taste.  Well, he didn't get it back, and from that moment on I was hooked.  To this day, Allen, I, and another great friend of mine (Sal) meet every Sunday morning for coffee at Starbucks.
Well it just is meant to be that I am going to incorporate Starbucks Coffee somehow in a recipe.  My grandmother used to make cupcakes with instant coffee in them.  Well now that Starbucks has its "VIA" instant packets, I knew I could do the same.  So tweaking her recipe a bit, I came up with Chocolate Chip Cappuccino Muffins.  I think you all will find them very tasty.  They might even give you a little boost in the morning.
Ingredients:
2 cups all-purpose flour
1/2 cup sugar
2-1/2 teaspoons baking powder
1 package Starbucks VIA Italian Blend
1/2 teaspoon salt
1/2 teaspoon cinnamon
1/4 teaspoon nutmeg
1 cup whole milk
1/2 cup butter, melted and cooled
1 egg, slightly beaten
1 teaspoon vanilla extract
3/4 cup semi-sweet chocolate mini-chips
Preparation:
Preheat oven to 375 degrees F. Line muffin tins with papers or grease liberally.
In a large bowl, whisk together flour, sugar, baking powder, espresso or instant coffee,salt, cinnamon, and nutmeg. Set aside.
In a medium bowl, mix milk, butter, egg, and vanilla until combined. Stir milk mixture into flour mixture only until combined. Do not over mix. Fold in chocolate chips.
Fill muffin cups 3/4 full. Bake 15 to 20 minutes for standard muffins, 10 to 12 minutes for mini-muffins.
Cappuccino muffins freeze well.
Yields about 12 muffins or about 48 mini-muffins
2,866 total views, 0 views today

You may like these recipes too: