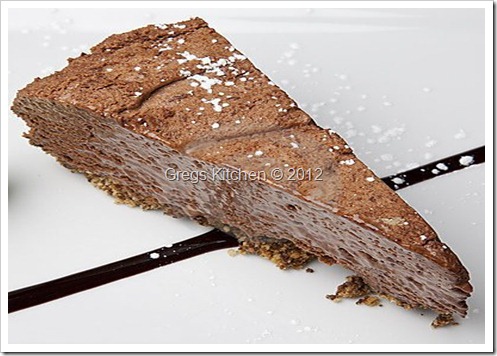 If y'all are looking for a great chocolate dessert, this one is for you.  Changing out the cream cheese with yogurt and ricotta cheese help keep it creamy.  It is definitely a great choice for when your trying to lower your calories and carbs from the traditional cheesecake.  It is not the best choice, but it is better than the original so you should still eat it in moderation.
Ingredients
CRUST:

3/4 cup graham crackers crumbs
1/2 teaspoon cinnamon
2 tablespoons sugar
2 tablespoons canola or olive oil

FILLING:

3 large egg whites
1/3 cup sugar
2 cups nonfat ricotta cheese
1/4 cup cocoa
1/3 cup yogurt cheese **
1 teaspoon vanilla extract

** Place plain, nonfat yogurt into cheese cloth or a coffee filter. Place in strainer over a small bowl or cup. Allow to drain 2 to 24 hours, covered and refrigerated, until cheese reached desired consistency. Discard the whey (liquid). Store in covered container in refrigerator.
Directions
Part 1:

Preheat oven TO 350 ° F. Spray 8-inch spring form pan with cooking spray. Fill a 13x9x2-inch pan halfway with hot water.
Place in oven on shelf below where chocolate cheesecake will be placed. This will prevent the top of cheesecake from cracking.
In small bowl, combine all crust ingredients. Press onto bottom and part-way up sides of pan. Set aside.

Part 2:

In food processor or blender, combine egg whites, sugar, ricotta, cocoa, yogurt cheese and vanilla; process, scraping sides occasionally, for 1 minute until smooth and thick. Pour into crust.
Bake 30 to 35 minutes until filling is just set (center will jiggle slightly). Turn off oven and leave cake in closed oven 5 minutes longer.
Remove from oven and cool about an hour on wire rack. Cover and refrigerate at least 3 hours before serving.

You may like these recipes too: