Smoked Bourbon Molasses Cowboy Beans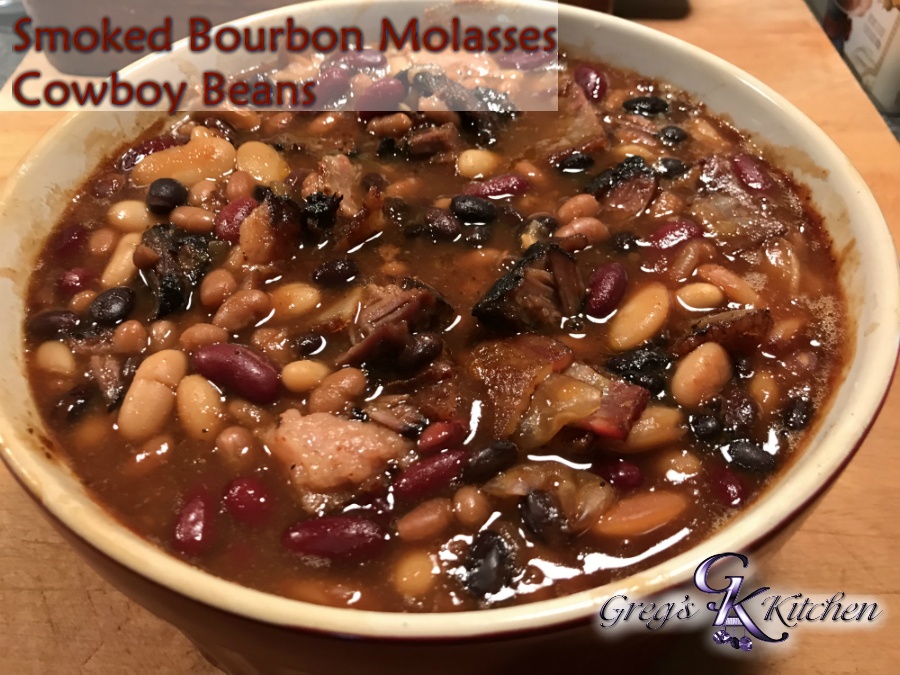 This is a recipe I have been making for some time now.  My cowboy beans are always a big hit, but today I decided to utilize my new smoker and give them an added twist.  If you don't have a smoker, you can easily do these in a slow cooker, cast iron dutch oven or even on the stop top.  I have to tell you though, that the smoker adds an additional layer of flavor that just puts them over the top.
I had smoked a brisket and used part of it in this recipe as well.  I am so glad I did too because the smoker only ads flavor to the beans layer on top that the smoke can reach.  I did stir them every 30 minutes to distribute the smoke, but the actual smoked brisket in the beans kicked it up a notch.  So here we go.  Let me know what you think.
Ingredients:
1 can navy beans
1 can butter beans
1 can black beans
1 can cannelloni beans
1 can kidney beans
1-2 cloves garlic, minced
½ medium sweet onion, diced
1 tablespoon Worcestershire sauce
¼ cup molasses
1/4 cup bourbon
¼ cup dark brown sugar
¼ cup ketchup
1 teaspoon  yellow mustard
1 teaspoon dried thyme
1 teaspoon chipotle chile powder
1/2 teaspoon cinnamon
1/2 teaspoon ginger
1-2 cups chopped smoked brisket (you can substitute bacon or ham)
Drain all the beans and add to a large oven proof dish.  (using a large flat dish like a 9×13 cake pan helps with getting more smoke across the top layer of beans)
Add beans, garlic and onions to dish and stir.
Mix wet ingredients including the brown sugar and spices/powders together and pour over top of beans.  Mix well.
Chop up the brisket in 1 inch pieces and mix into the beans.
Put in preheated smoker (225°F) uncovered
Smoke for at least 3 hours.
Stir every 30 minutes or so to distribute the smokiness  that collects on top of the beans.
I usually smoke them along with my ribs or brisket. If you do, put the under your meats to catch all those yummy drippings as they smoke/cook.
If you are smoking with other meats, you can add 1 teaspoon of the rub you used on the meat to your beans to tie them all together.
*If you do not have a smoker, this recipe will work great using an oven as well. The beans taste wonderful out of the oven but they do not have the smokey flavor. Follow the above recipe but cook in a 325 oven for 3-4 hours or until onions are tender
32,239 total views, 0 views today

You may like these recipes too: