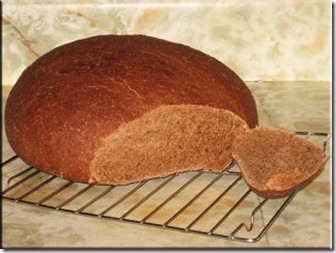 Ingredients
1 1/4 cups warm water (110 degrees F/45 degrees C)
1 tablespoon vegetable oil
1 1/2 tablespoons molasses
1 1/2 cups unbleached all-purpose flour
1 cup rye flour
1/2 cup whole wheat flour
1/4 cup bread flour
1 teaspoon salt
3 tablespoons dry milk powder
2 teaspoons instant coffee powder
2 tablespoons unsweetened cocoa powder
1 tablespoon caraway seed
1 1/2 teaspoons active dry yeast
Directions
Place ingredients into the pan of the bread machine in the order suggested by the manufacturer. Select Whole Wheat cycle, and Start.
After the first rise, remove dough from the machine. Shape, and place into a lightly oiled 9×5 inch loaf pan. Cover, and let rise for 1 hour.
Bake at 350 degrees C (175 degrees C) for 45 minutes. Remove from oven, and let cool before slicing.
521 total views, 1 views today
Thank you so much for visiting my food blog.

Click here to follow me on FACEBOOK so you never miss a single delicious recipe!

I also love y'alls comments. So please don't forget to share them below.

You may like these recipes too: