Chicken Osso Buco – Multi Cooker Version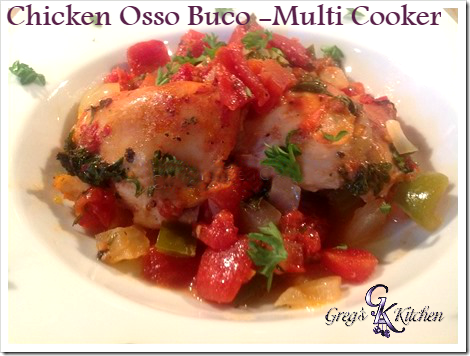 This is my Osso Buco recipe that I converted to my Paula Deen Multi-Cooker.  If you would like to use a slow cooker or cast iron Dutch oven, click here.
Traditionally, osso buco is Italian for "bone with a hole" (osso bone, buco hole), a reference to the marrow hole at the center of the cross-cut veal shank.  Veal shank, which is most commonly used in this dish, is relatively cheap and flavorful cut of meat.  Although tough, braising makes it tender.
Well enough of the Osso Buco lesson.  Tonight I substituted chicken for the veal shank.  Fortunately I don't have to braise the the chicken all day to make it tender.  Plus for me.  I love finding as many recipes as I can to use chicken in.  This one was a winner.  The sweet flavors of the vegetables highlighted the moist tenderness of the chicken thighs.  The combination was amazing.  So y'all need to run out to the garden or farmers market and get some fresh veggies and pick up some chicken because you're going to want to add this to your recipe collection.  It's just that good.
Ingredients:
6-8 chicken thighs (skinless/boneless)
2 tablespoons olive oil
4 carrots – diced
2 green peppers – diced
1 large sweet onion – diced
3 stalks celery – diced
3-4 medium tomatoes (2 cans diced if you don't have fresh)
6 cloves garlic – chopped
1/2 cup chicken stock
1 small bunch curly parsley – chopped
1 teaspoon salt
1 teaspoon ground black pepper
In the Multi-Cooker set on "Stove Top-High" heat olive oil and then brown the chicken on both sides.
Remove chicken to a plate and cover.
Add the vegetables, tomatoes, and garlic and cook for 3-5 minutes
Add the chicken back to the Multi-Cooker and nestle into the vegetable/tomato mixture, add the chicken stock and parsley.
Cover and place multi-cooker on "Oven" at 350° and cook for 60-90 minutes.
Uncover and  and cook an additional 30 minutes to reduce liquid.
Remove the multi-cooker inner pot to a hot pad or cooling rack and allow to cool for 15-20 minutes, and serve.
29,575 total views, 0 views today

You may like these recipes too: