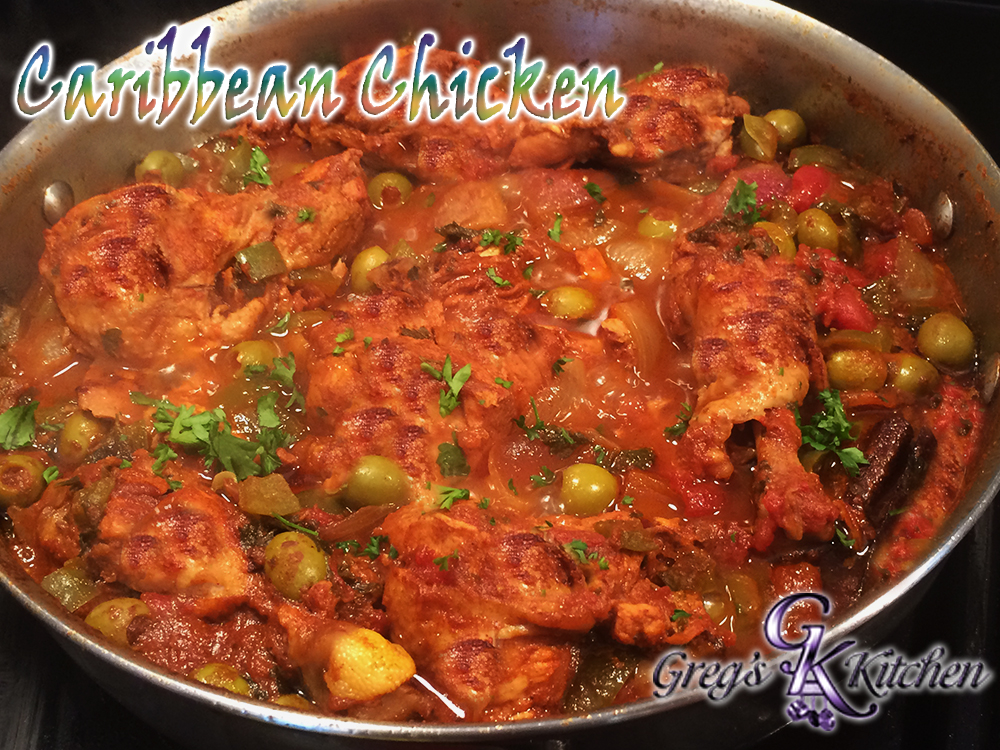 As some of you know, I spent last weekend in Key West with some of my favorite people.  We had such a great time rooting for a friend of ours who was in the Hemingway look alike contest.  Along with boating around Key West, swimming on a local sandbar and of course eating some amazing food.  This is what has inspired this dish.  Besides the amazing seafood, there is a great Caribbean influence as well.  So I decided to relive memories of last weekend and make a Key West/Caribbean inspired dish.
Now I used two whole chickens, but you could easily use any combination of chicken pieces that you enjoy.  I do think you should leave them on the bone and with skin.  This adds great flavor and the skin browns well for additional taste.  If you can't find fresh tomatoes, you could use a large can of chopped or diced tomatoes.
So you all give this a try and let me know what you think.
INGREDIENTS:
2 whole chickens cut into pieces
3 large tomatoes
2 large onions
2 green or red peppers
4-6 garlic cloves – chopped
1/2 cup Worcestershire sauce
1/3 cup balsamic vinegar
1/2 cup fresh parsley, chopped
1 teaspoon salt
1 teaspoon black pepper
1 teaspoon ginger
1 teaspoon ground cumin
1 teaspoon chili powder
2 teaspoon dried thyme
2 cinnamon sticks
3 tablespoon olive oil
3 tablespoon sugar
1/2 cup  ketchup
3/4 cup pitted olives
1-2 cups chicken stock or water
Clean and cut your chickens into 8-10 pieces (I cut breasts in half for 10 pieces)
Cut tomatoes, onions and peppers into large pieces
In a very large bowl combine the chicken, and all ingredients except for olive oil, sugar and ketchup.  Mix well to combine and then let marinate in refrigerator for 30 minutes or up to an hour.
Remove from refrigerator.
In large pot that will hold all the chicken and marinade, add the olive oil and heat over medium heat.  Once heated, add the sugar and let it caramelize.  Watch closely so it doesn't burn.
 Once it is browned and starting to bubble add 3-4 pieces of chicken at a time to brown on all sides.  Remove each and place in bowl.  Continue to brown all pieces.
Add browned pieces back to pot along with the marinade, olives and ketchup.  Add enough chicken stock to barely cover chicken.
Increase heat to bring chicken to a rapid boil, then lower to medium, partial cover with lid, and let cook for 1 hour.  Stir once or twice during this time.
23,809 total views, 0 views today

You may like these recipes too: