"French Style" (Bone in) Pork Roast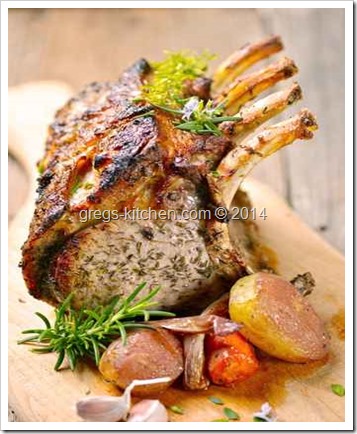 You can really dress up your dinner tonight with this beautiful bone in pork roast.  It is so succulent and tender.  Your family will think you worked all day on this one, but with a few minor tasks, you can have this beautiful roast.  I like to roast mine with a combination of root vegetables.  If you do as well, just remove them with the roast before you make the pan gravy.
Ingredients
6-8 rib pork rib roast
2 tablespoon rubbed sage
2 tablespoon thyme
2 tablespoon minced fresh rosemary
2 cloves garlic minced
2 tablespoon paprika
1 tablespoon salt
1 tablespoon black pepper
3 tablespoon olive oil, plus more for coating the pan
1 small shallot, finely diced
1 tablespoon dry mustard
1 teaspoon dry ginger
1 cup apple sauce or apple butter
2 tablespoon apple cider vinegar
4 tablespoon dry white wine
2 tablespoon heavy cream
2 tablespoon unsalted butter
The Recipe
Combine the sage, thyme, rosemary, garlic, paprika, salt and pepper in a small  bowl and combine.  Next, add the olive oil to form a paste. Rub the herb paste into every nook and cranny of the roast. 
You should allow the roast to sit unrefrigerated for an hour to warm up a bit and soak in the flavors.  Plus this will help with a more evening cooking.  Place the rib roast in a shallow roasting pan prepared with a little olive oil.
Put roast in a preheated 500 degree oven.  Cook for fifteen minutes, then turn the oven temperature down to 325 degrees and continue to roast to an internal temperature of 145 degrees.  (This will take 1 to 1-1/2 hours depending on the size of your roast).
Remove the roast from the oven and the roasting pan, place on a platter and tent with foil and allow it to rest while you make the gravy.
Place the roasting pan over medium high stove heat, and sauté the shallots in the rendered pork fat.  Add powdered mustard and ginger and mix into the fat and shallots.  Deglaze the pan with the apple sauce, vinegar and white wine.  Add the cream and allow the mixture to reduce a little.  Finish with the butter.
Carve chops off of the roast and top with the  pan gravy.
6,487 total views, 0 views today

You may like these recipes too: