Coconut & White Chocolate Magic Bars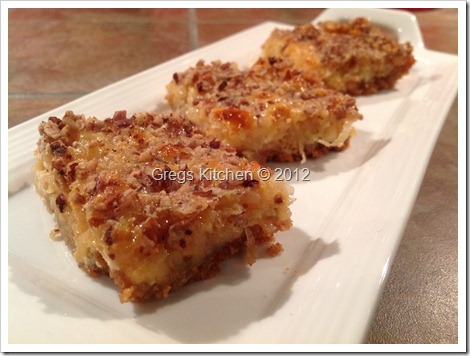 I grew up loving seven layer bars.  But having someone in the house that doesn't like chocolate (I know, what kind of person doesn't like chocolate?), I had to come up with a twist to one of my favorite bars.  So changing out the chocolate chips to white chocolate chips and adding a Dulce de Leche sauce, I made my favorite bars with a twist.
Ingredients:
2 packages graham cracker 
3/4 cup butter, melted
1 (14 oz.) can Dolce de Leche(caramel sauce)*
2 cups (12 oz. pkg.) white chocolate chips
1 1/2 cups flaked coconut
1 cup chopped pecans or walnuts
If you can't find dolce de leche sauce, you can make your own click here, or you can substitute sweetened condensed milk.
Heat your oven to 350°F (325 for glass pans).
Place graham crackers in food processor and pulse into crumbs. 
Melt butter and then pour into food processor and blend well.
Next,  spread the graham cracker mixture evenly into bottom of prepared 9×13 inch baking pan.
Now you will sprinkle the white chocolate chips.
Sprinkle with the coconut.
Pour the Dulce de Leche sauce over the entire mixture evenly.
Sprinkle on the pecans/walnuts.  Then gently press the entire mixture down a bit, just a little smash.
Bake for 25 to 30 minutes or until lightly browned.
Remove from oven and let cool completely.   I like to cut mine in small squares and place between cut pieces of wax paper to stack for storage.  They are STICKY.
I hope y'all enjoy.
2,220 total views, 0 views today

You may like these recipes too: