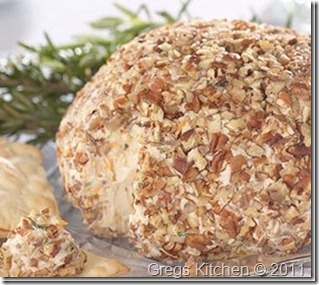 I can remember all my moms party's and card party's she always had the biggest spread of appetizers.  One of my favorites was her cheese ball.  It is so simple to make, but it tastes like its bought from a gourmet cheese shop.  Y'all have to give it a try, and mix it up a little and try different cheeses or herbs and such.  You might find your own personal version is more to your liking.
Ingredients:
2  8-ounce package of cream cheese
1 cup finely shredded cheddar cheese
1/4 cup shredded parmesan cheese
1/4 cup finely chopped onion (optional)
1/2 teaspoon garlic powder
1/2 teaspoon anchovy paste (optional)
a pinch of cayenne powder
2 tablespoons of a garlic or Caesar salad dressing
1/2 cup toasted pecans, chopped coarse, (optional)
Mix all ingredients except the pecans if you use them in a stand mixer or large bowl.  Mix/combine till all comes together.  You may need to add more or less dressing if you use fat free or reduced fat cream cheese.  I like to then line a bowl with saran wrap and push the cheese mixture into bowl.  Then just turn over onto plate, remove bowl and saran wrap and cover with crushed pecans.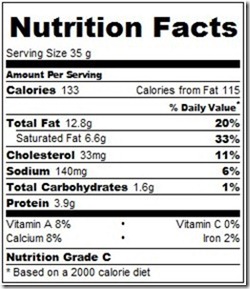 3,758 total views, 1 views today

You may like these recipes too: