Dereks' BBQ Chicken Pasta Bake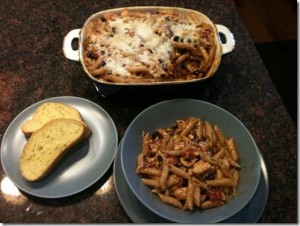 So, one of my best friends texted me tonight to tell me he was making a dish based on something he had had in Atlanta years ago.  Except he was putting a twist on it.
Now of course I told him to bring me some to taste, but he said I'd have to pay for the plane ticket.  You see, he moved away from Tampa to Richmond, VA a few years back.  I hate that he is so far away, but you know what?  I am so happy he did.  He found the love of his life and married him just last month.   He is were he belongs and who he belongs with.  Of course, they could move their butts back down here. LOL
So here's Derek's recipe for BBQ Chicken Pasta Bake.  I hope you enjoy.
Oh, and don't forget to check out his version of Brunswick Stew
Ingredients:
1 lb chicken cut to bite size pieces & pan fried
1 lb Penne Pasta cooked & drained
14.5 oz can corn drained
14.5 oz can black beans drained
14.5 oz can diced tomatoes w/green chilis drained
8 oz shredded mozzarella cheese
2 18 oz bottles BBQ sauce
1/2 tsp chili powder
jerk seasoning to taste
Directions:
Mix all together in a large bowl reserving some cheese for the top. Transfer to a deep baking dish, cover with foil and bake at 375 for 30 minutes.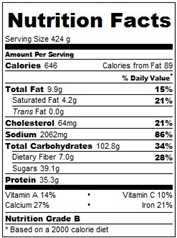 2,024 total views, 1 views today

You may like these recipes too: