Derek's Tuna Potato Chip Casserole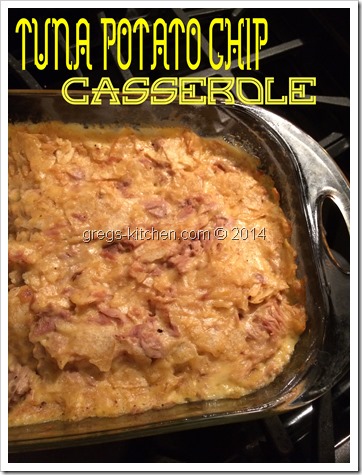 It's that time of year.  Back to school.  Time to change all of our schedules around again to get the kids off to school and the other things this time of year encompasses.  There is just not enough time in the day to get it all done.  I have been compiling recipes for you all to help you get dinner on the table quicker and with more ease.
Tonight one of my best friends Derek shared this recipe with me.  As anyone who follows my food blog knows, Derek has shared a number of recipes on here.  They are all amazing.  Well with this one,   I immediately knew I had to share it with you all.  It is one of the easiest to put together and yet filled with flavor.  My mom made a casserole similar to this but she added peas to it as well.
So give this one a try and let Derek and I know how you like it.
I bag potato chips
I large can of tuna
2 cups milk
2 T butter
2 T flour
8 oz. shredded cheese
Pepper to taste…No salt needed due to the chips
Grease sides and bottom of baking dish.  Place a layer of crushed potato chips, then tuna, top with remaining crushed chips.
Make a basic white sauce by melting the butter in the bottom of a sauce pan.  Add  flour and whisk together and cook until lightly brown. Slowly add milk while whisking together to ensure well mixed.   Cook over low heat until starts to thicken. Add cheese and melt.  Pour over potato chip/tuna mixture.
Bake at 250 for 20 minutes.
23,601 total views, 0 views today

You may like these recipes too: