Strawberry Buttermilk Cake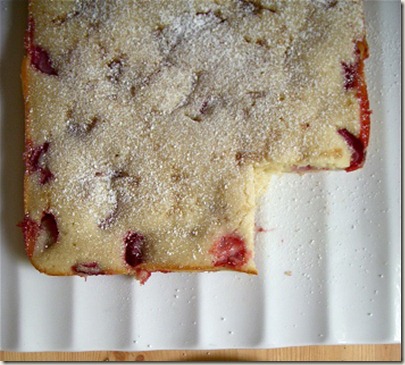 Originally found at Confessions of a Bakeaholic
 Ingredients:
1 1/4 cup All-purpose flour
1/2 cup Sugar
1 teaspoon baking powder
1/4 teaspoon baking soda
2 1/2 tablespoons butter, melted
1 Tbs. Canola Oil
1 egg
1/2 cup buttermilk
2 Tbs. Lemon juice
1/2 teaspoon vanilla extract
1  1/4 cup strawberries, quartered
Directions:
Preheat oven to 350.
In a small mixing bowl, combine flour, sugar, baking powder, and baking soda in a bowl.
In a stand mixer combine egg, buttermilk, lemon juice, melted butter and vanilla extract.
Add dry ingredients slowly to stand mixer and wet ingredients and stir until just combined.
Take mixing bowl off of mixer and gently fold in the strawberries using a spatula.
Pour batter into a greased 8×8 pan. Sprinkle top with demerara sugar or brown sugar if you like. Bake for 20 to 25 minutes.
Cool slightly and run a knife around the edge of cake. Dust with confectioners sugar and serve with some whipped cream if you like as well.
1,794 total views, 0 views today

You may like these recipes too: