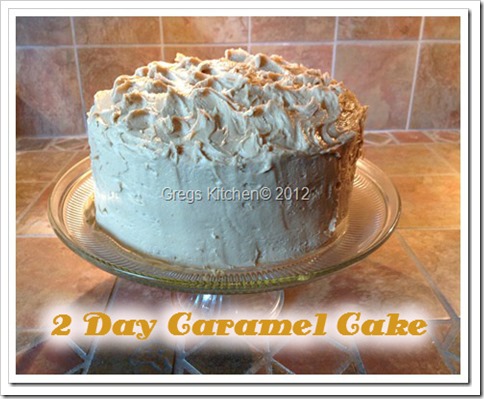 If you have been paying any attention to my blogs, you'll remember one of my favorite recipes is my Grandma Blanche's caramel recipe. As I had said in recent blogs, our whole family made this recipe and never changed it once. Christmas was always the time of year when we could go into my great grandmothers house in hopes of finding these wax paper wrapped treats. Guess what, we were never disappointed. There was always a bowl sitting prominently on the side board in her dining room.
Well as my close friends and family know, I spent a lot of my summers at my Aunt Carols house. I learned so much from her. She was one of those woman that you would never say "you can't do that" to.  Because like my mom, there was nothing this woman couldn't do. She could roof a house, plow a field, make any clothing, build a house and all the wiring, plumbing and such. Then when she went into her kitchen, she could make anything in the world. My favorites were always her fried liver and onions and her version of grandma Mary Belles Kentucky Stack Cake. She changed up the cake recipe by using molasses in it because grandpa Cecil (her daddy) loved molasses and it was mom and both my aunts desire to always please their daddy in everything they did.
Well one special weekend when I was at aunt Carols, she made a Caramel Cake. Up until now, I had never had this cake. Now that I am grown up I know that this cake is a traditional southern cake. It is usually only made on special occasions due to the fact that the frosting takes 2 days to make. Well when I heard "caramel" cake I got all excited but then thought, now how is she going to coat that cake with caramel and how will we slice it without tearing it to pieces? Guess what? She showed me, and I fell in love with another of her cakes.
Now I will warn you now. This cake is not for the calorie conscious. It contains what I like to call the southern holy trinity of butter-sugar-cream. Of course you all know I like to change recipes around, but this one does NOT need any changes. Plus, if you don't follow it to the exact instruction, it is not going to be pretty. So once you get your nerve up, and have a couple free days, try this cake. If you live in the south, you may be able to find it at a bakery, but believe me, home made is best.
Ingredients:
Frosting:
2 pounds light brown sugar
2 cups heavy whipping cream
1 teaspoon baking soda
1 cup butter, sliced into 1 tablespoon pats
Use the heaviest saucepan you have that is at least 6 quarts. Stir together the sugar and cream in the cold pan, turn the heat to medium, and bring to a rolling boil.
Do not stir once the boil has begun. Did you get that? DO NOT stir once it boils.  Ok, now we can move on.
Boil exactly one minute, no more and no less as aunt Carol would say. Now at the end of that one minute, you will add the baking soda and boil again for exactly one more minute. *Be careful and don't panic: the mixture will foam up when you add the baking soda, that is why we are using a big saucepan.
At the end of that minute, remove the mixture from the heat and add the butter, and Do Not stir the butter as it melts.  Are you listening to me?  Do NOT stir the butter as it melts.   Now once the butter has completely melted, stir the mixture just enough to combine the melted butter into the sugar mixture, and let it cool down to room temperature. Once completely cooled, cover the pan and place it in the refrigerator overnight.
I think I should let you know at this point that this mixture is going to be very ugly looking. It is not going to look like the final smooth glistening icing you expect. You just have to trust me on this one, if you've never made this cake before, it is going to be beautiful.
The next day you are going to remove the icing mixture from the refrigerator and place in the bowl of your stand mixer. I do hope you have a stand mixer because your going to use the wire whisk attachment and beat this mixture for a good 15-20 minutes to make it smooth. I apologize if you only have a hand mixer, but it's a good form of exercise. (another reason I have a stand mixer, I don't do well with exercise). If for any reason it doesn't look right at the end of the whisking, put back in fridge for another hour or so and try beating again, that should do it.
For the cake:
1 cup butter, softened
2 cups granulated sugar
3 1/3 cups self-rising flour
5 eggs
1 cup whole milk
1 teaspoon vanilla extract
Preheat the oven to 350°.
Grease and flour three 9 inch cake pans.
Beat the butter until it becomes  light and fluffy. Now gradually stream in the sugar, beating until completely combined. Add the eggs, one at a time, making sure each egg is thoroughly mixed in before adding the next.
Combine into the mixture 2/3 cup of flour, followed by 1/4 cup of milk, repeating the flour then milk additions until all flour and milk have been added. Now add in the vanilla extract.
Pour the batter evenly into the pans, and bake for approximately 25 minutes (or until a toothpick inserted into the center of the pan comes out clean).
Cool the cakes completely and then place the first layer of your cake on a cake stand or plate. Spread a layer of frosting on each level of cake, finishing with a very thin layer of frosting over the whole cake. Don't use all your frosting in doing this because you have only done the crumb layer of the frosting process. Now place the cake in the fridge until this thin layer of frosting sets. Then remove from fridge and apply the final coat of frosting for a nice clean, smooth finish.
You can now proudly display and serve your beautiful Caramel Cake. As you can see, this will be one of those special cakes you only make occasionally. But you will be so glad you did when you hear all the compliments on it.
4,815 total views, 0 views today

You may like these recipes too: