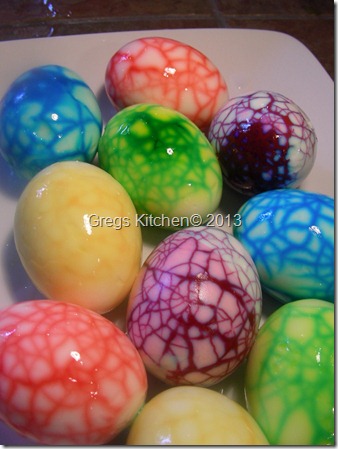 I have been seeing these in others peoples food blogs a lot this past year.  So I decided its time to try them myself.  They are quite easy to do, and your friends and family are going to love them.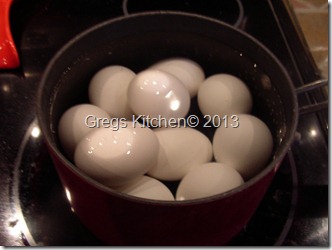 First, put your eggs in cold water, place on the stove and bring to a boil.  Immediately once boiling begins, remove from heat and let sit for 20 minutes in the hot water to continue cooking.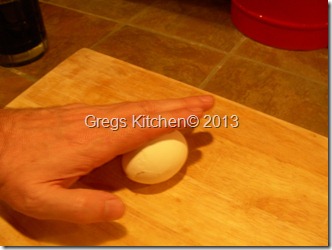 Once your eggs are cooked, remove from water and let cool. Once cooled, its time to have some fun.  Roll and tap your eggs on the counter or cutting board.  You are trying to make as many cracks in the shell as you can.  the more you make the better the eggs will look.  I smashed mine down gently, then rolled them across the cutting board, crackling it the whole time.  Don't forget to do the tops and bottoms too.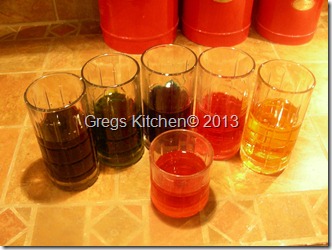 Now fill a few bowls or glasses like I did with cold water and put about 10 drops of food coloring in each.  Make sure you mix them well.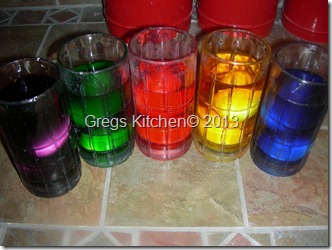 Now drop your eggs into the colored water and place them in the refrigerator over night.  You want them to have plenty of time to absorb the coloring into the cracks.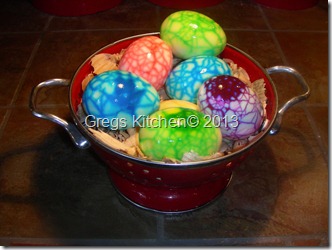 The next morning, just peel your eggs and you will find beautifully crackled hard boiled eggs.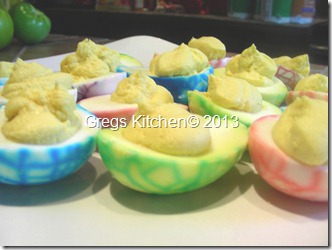 Once cut and filled with your favorite deviled eggs filling, you have a beautiful side dish to highlight on your Easter table.
13,779 total views, 0 views today

You may like these recipes too: