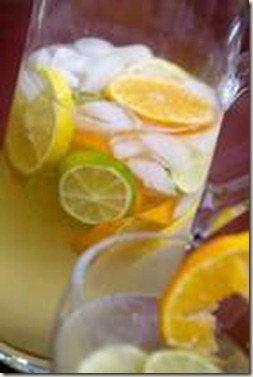 Those who know me, know my love for Sangria.  Well I have decided to try out some white Sangria, as compared to the red wine Sangria I usually make.
The beauty of this simple White Wine Sangria recipe is that it is as delicious as it is easy, and it only gets better as you add your favorite fruits! And please, mix it up and use your areas fresh fruits.  You might just discover a combination you love of your own.
Ingredients:
1 Bottle of white wine (Riesling, Albarino, Chablis, Gewurztraminer, Pinot Gris, Chardonnay, Sauvignon Blanc)
2/3 cup white sugar
3 oranges (sliced) or may substitute 1 cup of orange juice)
1 lemon (sliced)
1 lime (sliced)
1/2 liter of ginger ale or club soda (ginger ale for those with a sweeter tooth!), of course I use the ginger ale…LOL
Preparation:
Pour wine in the pitcher and squeeze the juice wedges from the orange,lemon and lime into the wine. Toss in the fruit wedges (leaving out seeds if possible) and add sugar. Chill overnight. Add ginger ale or club soda just before serving.
If you'd like to serve right away, use chilled white wine and serve over lots of ice.
Addition ideas: sliced strawberries, peaches, handful of fresh blueberries, raspberries, kiwi, a shot or two of gin, brandy or rum, a cup of citrus-flavored soda pop.
2,234 total views, 0 views today

You may like these recipes too: