A nice comfort food my mom used to make when I was growing up.  Simple and yet so delicious.  I had a craving (no Greg I'm not pregnant!) so I embarked on making stuffed peppers from my mom's recipe and they turned out absolutely perfect!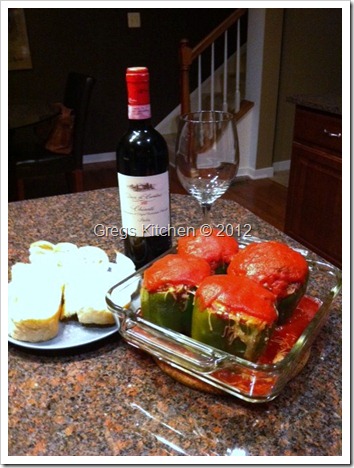 Ingredients
1 pound lean ground beef
1/2 cup uncooked long grain white rice
1 cup water
4 green bell peppers
16 ounces Italian style tomato sauce
1 tablespoon Worcestershire sauce
1/4 teaspoon garlic powder
1/4 teaspoon onion powder
salt and pepper to taste
1 8 ounce can mild Rotel tomatoes
6 ounces shredded mozzarella cheese
Directions
Preheat oven to 350 degrees F (175 degrees C)
Place the rice and water in a saucepan, and bring to a boil. Reduce heat, cover, and cook 20 minutes.
In a skillet over medium heat, cook the beef until evenly browned.
Remove and discard the tops, seeds, and membranes of the bell peppers. Arrange peppers in a baking dish with the hollowed sides facing upward. (Slice the bottoms of the peppers if necessary so that they will stand upright.)
In a bowl, mix the browned beef, cooked rice, 1/2 of the tomato sauce, Rotel tomatoes, Worcestershire sauce, garlic powder, onion powder, salt, and pepper. Spoon an equal amount of the mixture into each hollowed pepper. Pour the remaining tomato sauce over the stuffed peppers.
Top with shredded mozzarella cheese
Bake 1 hour in the preheated oven, basting with sauce every 15 minutes, until the peppers are tender.
1,621 total views, 0 views today

You may like these recipes too: