Spicy Chicken & Cheese Quiche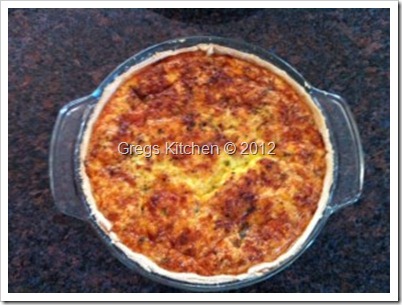 Ingredients:
1 cup Mexican blend shredded cheese
1 cup cooked chicken (cooled, shredded or finely diced)
1 jalapeño pepper (diced)
3 large garlic cloves (peeled and minced)
1 tablespoon dehydrated onion flakes
1/2 teaspoon ground cumin
5 eggs
1 1/2 cups milk
1 prepared pie shell
salt and pepper to taste
Preparation:
1) In a bowl, combine: chicken, cheese, jalapeno, garlic, onion flakes, and cumin and thoroughly mix them together. You may refrigerate the filling until you are ready to assemble.
2) Place the prepared dough in a pie pan and trim to fit.
3) Place the chicken mixture in the pie pan on top of the dough
4) Whisk together the eggs and milk and pour over chicken mixture. This should just cover the chicken. Salt & pepper to taste.
5) Bake 350 degrees for 30-45 minutes until golden brown
251 total views, 1 views today
Thank you so much for visiting my food blog. I know you have many choices out there and I am so very happy you found mine. Click here to follow me on FACEBOOK so you never miss a single delicious recipe! I also love y'alls comments. So please share them below.

You may like these recipes too: