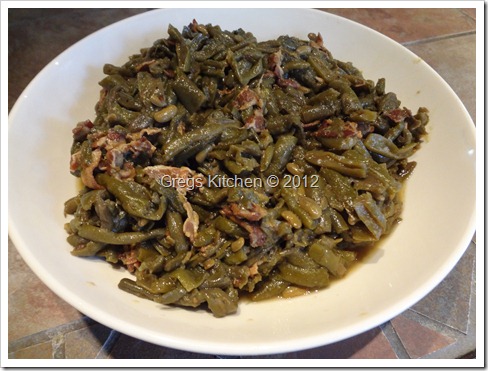 I have to say that my favorite vegetable growing up was my moms green beans that she cooked overnight in the crockpot.  Sometimes she even would throw some potatoes in and that would be our dinner.  Sounds weird to some maybe, but give it a taste and you'll be hooked.  It takes just 5 minutes of hands-on time, a Few Hours in the Slow Cooker, and You Have a Delicious Southern Side Dish.
Don't be tempted to use canned green beans as is the practice in some sub-standard restaurants. While the canned variety possess the familiar gray-green color of properly cooked (at least according to Southerners) fresh or frozen beans, they don't absorb the flavors of the bacon and onion. The result will be miserably overcooked, rubbery, soggy, over-salted green beans with a bit of bacon and onion. Yuk!
Ingredients
1/4 cup cooked and crumbled bacon
1 small chopped onion
1 pound frozen whole green beans (or fresh if you can get them)
1/2 cup hottest tap water
1 cup chicken stock (or 1 cup water, 1 chicken bouillon cube.)
1/2 teaspoon salt
1 teaspoon black pepper
1 clove garlic minced
Place the bacon and onion in the crock of a slow cooker.
Add the green beans, but don't stir.
Mix the water, chicken stock and the salt & pepper and garlic; pour over the beans.
Cook on low 4-6 hours (or over night) or high 2-3 hours.
Stir before serving.

You may like these recipes too: